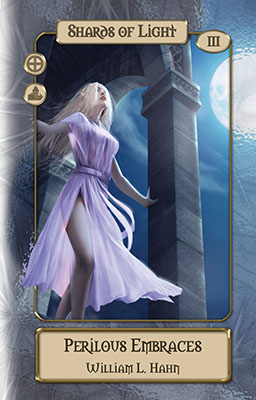 184 pages
first published July 2017
Epic Fantasy Novel
About the Book
W'starrah Altieri can see the future, ranks high in her church, and is without question the most beautiful woman in the North Mark. But the prophecy she knows to be true will either break her heart, destroy her home or end her life.
In 2002 ADR, the jewel of the southern empire is the city of Cryssigens, where life is an unending carnival of display, while intrigue brews beneath the surface. Nobles, guilds and House Cups scheme with and against each other, even in the best of times. But civil war stripped the city of its Overlord, and now factions emerge daring all in a bid to succeed to the throne.
One of the leading lights of Cryssigensian society is W'starrah Altieri, the Lavender Lady, high-ranking priestess of the sect of Argens Stargazer; while others see only her dazzling beauty her eyes are filled with foreknowledge of the future. She willingly risks life and reputation to save her city, but juggling visions, rivals, suitors and the occasional assassin pushes the real world further from her grasp. Who could expect that in the midst of this she would meet the promised love of her life, or foresee that he too is doomed?
"Perilous Embraces" is the third story in the Shards of Light saga set in the Lands of Hope.