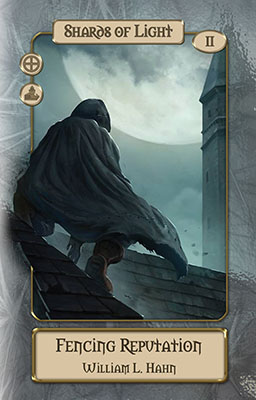 128 pages
first published August 2011
Epic Fantasy Novel
About the Book
The Stealthic Feldspar hides behind a thousand masks, but just when his city needs him the most, he could lose himself in the most potent disguise he's ever tried: none.
In 2002 ADR, the jewel of the southern empire is Cryssigens where life is a constant carnival of display, while beneath the surface brews a world of intrigue and rebellion. Nobles, guilds and the House Cups scheme with and against each other even in the best of times. Since the recent civil war, the city and kingdom are stripped of their Overlord, and the parties dare all in a bid to succeed to the throne.
When the elven lords, preachers and merchants of Cryssigens need wrongs righted without clues, they look for the stealthic Feldspar to solve their problems. But the legend without a face is hard to find: and when Feldspar takes a commission from the most famous and beautiful priestess in the city, he finds problems of his own piling up. Feldspar's exploits not only take him to the ancient city below, he also must reinvent himself and is forced to choose between Hope and safety.
"Fencing Reputation" is the second story in the Shards of Light saga set in the Lands of Hope.